I am very excited about sharing today's interview! I met Liz on Twitter. I became a customer of hers when I purchased one of her pincushion rings. (I adore it – not only because it is so pretty – but because it is so practical! I use it when creating my blankets and it deserves a post of its own…)


Liz is talented, which is evidenced by her shop filled with so many lovely things! She is also an inspiration! After all, she was on Martha Stewart!


When you read about her workout regimen, you might think she's a "machine." But she is anything but that! She is warm and kind and engaging. She loves to chat with her twitter friends and rarely promotes herself. So I'm here to do that, because I think she – and her creations – are amazing!
Tell us about Made In Lowell. Did you start with an Etsy shop or a studio? What was your inspiration?
I've always been an artist. I started making things to sell when I was a little kid. I would set up a table in the living room and sell the miniatures my older sister had taught me to make. I would sell them to my mom. She was a good customer.
When I was in college, I started selling at craft shows, festivals, and flea markets, primarily handpainted and silk screened t-shirts shirts and polymer clay items. I added beaded jewelry in the mid aughts and became Made in Lowell in 2006 when I joined Etsy. Then I started working with wool and making felt. I always worked a full time job but in 2007 I got a studio in an old mill full of artists called Western Avenue Studios and I leapt into MiL full time.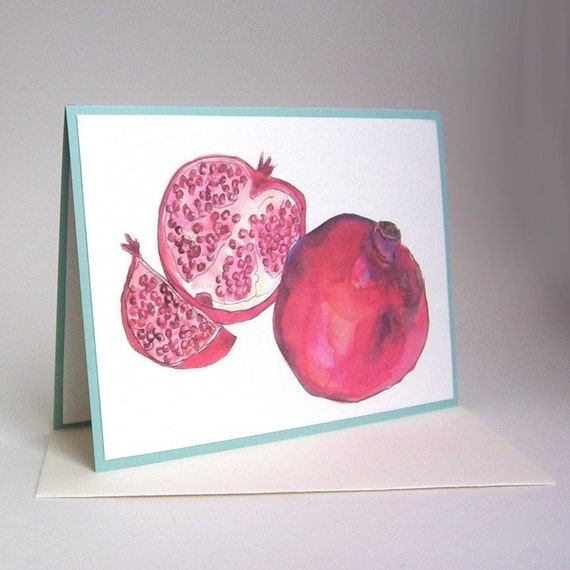 One of the cards based on a watercolor by Liz's Mom – Marilyn Smith Rosenfeld
I love that you can't help but create (I can relate!) I bet you were this way since you were young. I read a lovely interview about your Mom. Tell us a little about her and her guidance.
My mom is awesome! She grew up in rural Indiana in the 30s and 40s. Her father was a sign painter, he did gold leaf lettering on windows for businesses, and he painted the sides of tobacco barns. He was a great artist and she became one too. She and my dad met in drawing class in college (dad became an architect) and they moved to the east coast to raise a family. Mom continued to make oil paintings until about when I was born. Then she took classes and learned watercolor. She has a fabulous hand, I think her work is just gorgeous. Art was a constant and regular part of my childhood. Mom used to sell her paintings but nowadays she keeps a watercolor journal where she draws and paints from life (as opposed to from photos). I scan the pages out from her journal and make the images into cards.
You were on Martha Stewart! She's like a rock star in my world! How did that experience come about and what was it like?
It was surreal! She's a big deal to me and getting to go on her show might be the pinnacle of my crafty existence. The short story is her producers found me on Etsy and asked me to submit materials to be considered for a segment and I was lucky to be chosen.
Walk us through a typical MadeInLowell day.
I used to be very sedentary, which is so easy to fall into for someone who sits and makes things half the day then sits on the computer the rest of the day. So for the past 2 years I've incorporated exercise into my routine. Every weekday morning I have my coffee then climb on the Nordic Track for 72 minutes. I used to get to my studio by 9 am but with the exercise coming first that doesn't happen anymore. I get to my studio more around noon these days, which is hard, but worth the sacrifice to be fit, I think. And I'm certainly not going to get up any earlier haha! Then I work on all the aspects of running a one person handmade biz: making inventory for studio, consignment and Etsy orders. Applying to shows, doing bookkeeping, blogging, social networking, etc. In the evening I go home and cook dinner for my sweet husband who is a writer but works a corporate job. (Read about her ongoing fitness journey here.)
You live and work in an amazing place! Tell us about the building, your studio, Lowell.
Lowell is special. It's the first planned industrial city in America. It's all mills and canals. Situated at the confluence of the Concord and Merrimack rivers, there are a ton of pretty riverwalks. My husband and I are both from Massachusetts but not from Lowell. We didn't know anything about the place when we moved here in 2000, except that it was affordable, near the highway, and we could rent a cool apartment on the top floor of an old mill with GIANT windows all around. Our mill sits directly adjacent to a canal, I mean our foundation is literally underwater. Right across the canal is another mill, it was actually still making textiles when we moved here. Now most of the mills are condos and rental units. It's sad the industry moved away, but I'm glad they didn't tear the buildings down. They are just beautiful red brick built in the late 1800s and early 1900s. Western Avenue Studios is in another old textile mill complex a mile down the same canal. That's where I rent a space. My studio is 434 square feet, the walls don't go all the way up to the ceiling to allow the heat to circulate in the wintertime. This makes it a bit noisy but earbuds fix that. There's a great camaraderie amongst the artists here, we know how rare this kind of community is and we treasure it.
How many shows do you do a year? What do you love about them?
Not counting monthly First Saturdays Open Studios, I do about 5 or 6 shows a year nowadays. I find them completely stressful and exhausting! But I love the cash infusion they provide (if they go well) and how I get to interact face to face with my customers. It never gets old seeing someone's face light up when they see your work. I also love talking with all the other vendors who, over time have become my good friends. And I love meeting new vendors as well. I can't believe it but I've been doing shows for 25 years now. Wow.
What do you love/hate about blogging? Twitter? Facebook? Are you on any other social media sites?
I LOVE TWITTER! And I HATE Facebook. I guess not every social media site is for everyone. I recommend people do the ones they like the best and don't worry about the ones that feel like work. I also like blogging but not all the time. I try not to overwhelm my blog readers with daily posts, LOL, it's a favor I do them *wink*. I blog about 2 times a month, if I remember. It's a great way to share information, to be a teacher and offer value, build community and interact in a different way than the daily chat that is Twitter. Twitter is my watercooler chat and it's a great way to meet new people. Twitter also turns out to be an amazing way to meet people right in my own city that I never would have otherwise. This has been invaluable to me for networking. I'm also on Flickr and Instagram which are communities based on photo sharing.
Do you enjoy other hobbies?
I love knitting & crocheting for fun, even though I also sell some knit and crochet items. I have done a little sewing in the past but I feel like I'm about to launch head first into a new sewing obsession that will probably be just for me and not to sell. Although I don't mind when something I started out doing just for fun morphs into a product. I also love reading magazines and playing Words With Friends.
Your twitter friends know about Chestercat. Tell us about him.
Chestercat is my little buddy! He's a stripy short haired tabby that we got from the pound in 2000 when he was about 8 weeks old and full of beans. It took him years to become a love, but now he's a lot of fun. Unfortunately he developed an incurable chronic health condition in 2007 that causes him occasional discomfort and costs us a lot of money and stress. I found him a great new vet though and he has been doing really well lately. I take pictures of him and post them online because he is so handsome and funny and cute and it helps relieve some of the stress to share him with my online community. I don't mind if people know I am obsessed with my cat.
How would you describe your fashion sense?
I am very basic, no frills! Cotton, solid colors, jeans, Vans sneakers. But I like clothes that fit right and I do tend to wear colors that are trending on Etsy. For instance right now I have a bunch of coral colored t-shirts that I layer with berry and aqua long sleeve shirts, then I wear matching color earrings and maybe one of my felt brooches. I tend to dress in the colors of the current season.
Are you a small town or big city girl?
Yes! Hahaha! I have always loved small cities. There are certain ones, and Lowell is like this, that have small enough downtowns that you start knowing all your neighbors, but you certainly aren't in the suburbs. I feel overwhelmed and like a bumpkin in New York, lonely and isolated out in the country, and bored in the suburbs. Small cities are where it's at for me! I'm also crazy about the seaside like Cape Cod or Martha's Vineyard.
Favorite genre of music – or what you are enjoying lately.
I love Samba and Bossa Nova from the 1960s, Gilberto, Jobim, Getz. Neo tango like Gotan Project. Anything by Thievery Corporation. I've also been loving the soundtrack from The Descendants which is all Hawaiian music which I was never interested in before. And I like pop music too, Brendan Benson, Ron Sexsmith, Nada Surf. I am picky but I find a lot that pleases me.
Martha's Vineyard! My folks bought a summer cottage there in 1970 so I've spent some part of every summer there my entire life.
Fondest childhood memory.
Listening to music and making art with my mom, back door open to the warm summer air, my dad tinkering in the basement.
Who would you like to be for a day?
This is stumping me! I can't think of anyone else I'd want to be, even for a day.
What's your favorite chain type restaurant?

< /i>
We don't eat out much and when we do I try to eat at independently owned restaurants but there's a branch of Boston Beerworks that opened in Lowell a few years ago and I like that place a lot.
What things are unique to where you live? As in special customs, favorite restaurants, slang, etc. (I love to find the unique things of an area when I travel. So much of the US is homogenized – Anywhere USA).
New England as a whole is very quirky and nichey. Of course there are plenty of stretches near the highways that look like Anywhere USA, but for the most part, each city is unique and each unique city and town is further divided into small enclaves and subcultures. There are hundreds of variations on the so-called Boston accent (which I do not have, BTW). Watch The Fighter to get an idea of what people native to Lowell sound like.
Ha! I haven't eaten candy since 2002. Yeah, really. I had to quit eating sugar for my health and it's turned out fantastic. I don't eat any grains either. But before all that, when I was still a full-on sugar addict, you could not have gotten me to pick a favorite, I remember each and every candy as the perfect piece.
Your scariest moment?
Luckily, the scariest thing I've ever done is go on live national TV with Martha Stewart.
What helps you when you are in a bad mood?
Music! A warm bath. And a hug from my husband.
Use one word that best describes you.
Interested – and interesting! Don't you agree? Check out Liz's blog for all kinds of interesting information and links – including her latest project – hosting a talk show!
Be sure to stop by her Etsy shop, Made In Lowell or hang out with her on Twitter. You'll be glad you did! I know that I am.
Thanks, Liz, for sharing a bit about yourself.