Annie whipped up this costume in record time. She has been a VERY busy high school senior, researching and applying to colleges, working really hard on her schoolwork, and sewing for an upcoming craft show. (She was disappointed that she didn't get straight A+'s…..she got one A – seriously?)
The seniors at her high school get to have a costume parade on Halloween. She and two of her friends decided to go as old-fashioned soda fountain waitresses. I'm not sure where the other girls got their costumes. Annie was going to make a skirt and put together the costume with a blouse, but it happened to be $1 pattern day at Joanns, so we found this Simplicity 3847 pattern.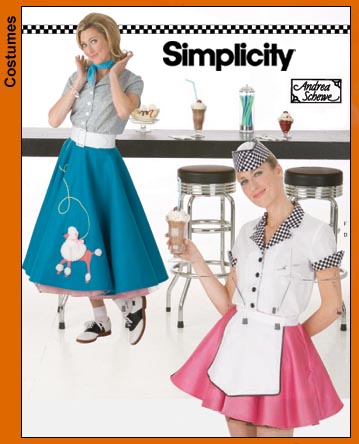 She recognized that the short skirt was REALLY short, so she added length to it. A circle skirt can be a little tricky to hem and it came out a little wonky, so she had to shorten the hem a little more. She used costume satin for the skirt, broadcloth for the blouse and yellow cotton for the contrast. It was a good project for her because she inserted the zipper and created a blouse – a good learning lesson for a low pressure outfit. And she did a great job!
See the old-fashioned roller skates? I had a pair until our last garage sale. Isn't that how life works? I had them for ages. My husband bought them for me when we were dating since we used to go roller skating quite a bit. Those were replaced with roller blades eventually and just taking up space on the shelf. When I put them out at the garage sale, they were scooped up by the owner of a vintage game and toy shop in Cleveland. I even saw them for sale in the shop! Thankfully, one of the girls asked a local roller skating facility if they could borrow the skates. I thought it was very nice that they allowed the girls to borrow the skates with no payment or downpayment! It is a really old-fashioned roller skating facility. Can you imagine a business doing that these days? I encouraged Annie to plan a night out there with her friends. It is something the kids don't do very often, but a great activity to enjoy with fellow teens.
I am a bit of a Halloween scrooge. I didn't even buy pumpkins! They were rather expensive and most of the carving work falls on my husband and me. As far as the annual question as to how old trick or treaters should be – I don't really care as long as the kids are polite. I think if a teen is going to trick or treat, they should put some effort into their costume. But, really, I'd rather see them trick or treating with their friends than out drinking or something. (And let me tell you, there are parents hosting or turning a blind eye out there.) In a year or two, they will be going to Halloween "block" parties at college….but that's a topic for another time.
Billy isn't planning to trick or treat. Thank goodness for friends who dropped off a few pounds of chocolate treats! Thank goodness, also, for our sweet neighbor boy. Billy will have fun being a kid with him tonight!